Women of Distinction Award
Main Content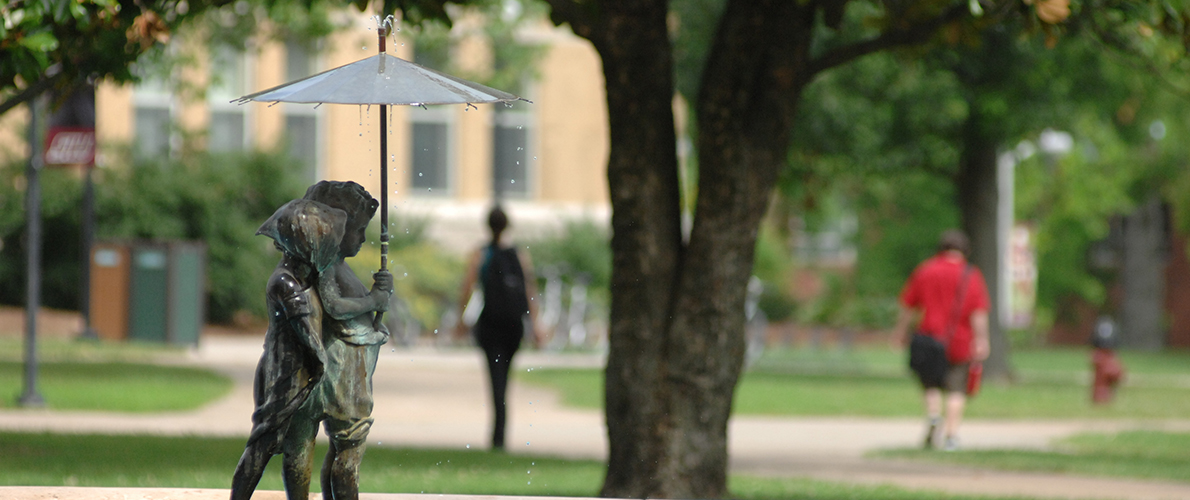 Women of Distinction Award
The purpose of this award is to recognize employees who have demonstrated a sustained commitment to women and/or issues of diversity through demonstrated leadership, vision, or actions in a profession, in an area of expertise, or in service to the University community.
Women of Distinction Nomination Guidelines and Deadline information
Criteria for Selection
The Women of Distinction Award is one given to a Faculty, A/P, or Civil Service staff member who demonstrates excellence and a sustained commitment to women and/or issues of inclusive excellence through demonstrated leadership, vision, or actions in a profession in an area of expertise, or in service to the University community, and demonstrates an active commitment to create a more equitable campus environment to enhance our understanding of one another.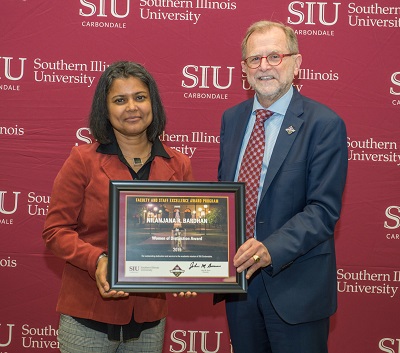 2019 Faculty Award: Nilanjana R. Bardhan, College of Liberal Arts
---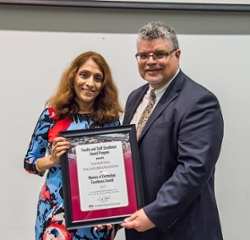 2017 Administrative/Professional Award: Nanditha Balasubramanian, Director of Annual Giving the the SIU Foundation. Balasubramanian began at SIU in 1996 as Assistant Director of Annual Giving. In July 2006, she became Director of the Annual Giving Program following a national search.
Balasubramanian began to make her mark on the campus and region soon after her arrival, and has an impressive track record of initiatives to further the mission of SIU and SIU Foundation. Her approach led to significant increases in donations as well as national recognition from the national professional organization, CASE: Council for the Advancement and Support of Education. As Assistant Director, she was responsible for securing private support for all the academic colleges on campus. Balasubramanian collaborated with units like the Paul Simon Public Policy Institute, Student Affairs, Touch of Nature and Morris Library to help with fund-raising ideas resulting in significant contributions that allowed these units to have ongoing annual giving efforts for their areas. As Director, she introduced training students in a wide range of topics, including developing cultural competencies, motivation, personal safety and leadership development. Balasubramanian is keenly aware that building "relations" between her student callers with the campus and with alumni are essential to the success of development efforts. She is untiring in her efforts to instill Saluki pride in the student callers while emphasizing ethical practices.
---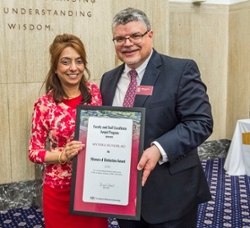 2016 Administrative/Professional Award: Mythili Rundblad, coordinator of the Center for Service Learning and Volunteerism. Runblad came to SIU Carbondale in 1999. Among her accomplishments are an extensive outreach effort resulting in a 50 percent increase in students who are participating in community service activities; increasing community partners from 40 to 70 organizations; and establishing a Volunteer Fair to help community organizations interface with students. Her efforts helped initiate in 2013 the Women's Civic Institute to enhance female leadership in civic and public service. She has also increased the number of Land of Lincoln AmeriCorps sites to include Carbondale, De Soto and Du Quoin elementary schools and the Boys and Girls Club of Carbondale.
Rundblad is a two-degree graduate of Eastern Illinois University, earning a Master of Arts in political science in 1991 and a Master of Science in education in guidance and counseling a year later. A native of Bombay, India, she earned undergraduate degrees in economics and political science at Bombay University. Prior to coming to SIU Carbondale, she was an international student adviser at the University of Illinois at Urbana-Champaign, and coordinator of the International Students and Scholars Office at Cornell University. In 2009, Eastern Illinois University honored Rundblad as an Outstanding Graduate Alumnus.
---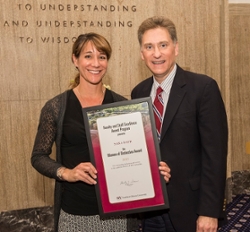 2015 Faculty Award: Sara Baer, professor of plant biology in the College of Science, "has distinguished herself well as a member of the SIU community as well as within her discipline and the Carbondale community," writes Stephen D. Ebbs, professor and department chair, in his nominating letter.
Baer joined the Department of Plant Biology as an assistant professor in 2004, becoming an associate professor in 2009 and full professor in 2014. Baer specializes in ecosystem, soil and restoration ecology.
---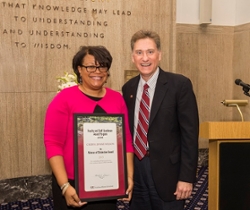 2015 Administrative/Professional Award: Cheryl Jenise Wilson, chief academic adviser in the College of Engineering. In her letter of nomination, Lizette R. Chevalier, professor and associate dean, and a previous winner of this award, wrote that Wilson "is committed to students, she is a role model, has vision, initiative, passion, and so much more."
Wilson earned her bachelor's degree in vocational educational and her master's degree in workforce education and development, both from SIU Carbondale. Previous positions with the university included secretary and office systems specialist in the forestry department. From 1998 to 2007, she served as academic advisor in the College of Education and Human Services, followed by four years as coordinator of teacher education admissions and field experiences in the college.
---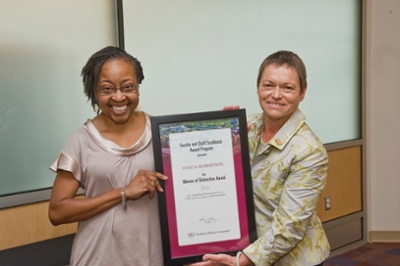 2014 Faculty Award: Stacia L. Robertson, an associate professor in the rehabilitation counseling and administration program at the Rehabilitation Institute, is praised by her colleagues and former students for her work as a teacher and mentor.
Carl R. Flowers, professor and institute director, writes that Robertson's impact is not only within the institute and the College of Education and Human Services, but also with multicultural rehabilitation issues both campus-wide and nationally.  Flowers also notes that Robertson is a high achiever in research, collaborating with colleagues for two long-term traineeship grants that have provided funding for more than 30 masters- and doctoral-level students.
Robertson joined SIU as an instructor in the Rehabilitation Institute in 2002, and was promoted to associate professor in 2009.  Her honors include Rehabilitation Educator of the Year in 2011-12 by the National Council in Rehabilitation Education, the College of Education and Human Services Outstanding Teacher of the Year for 2008-09, and Rehabilitation Institute Teacher of the Year for 2007-08. On a national level, Robertson is the immediate past president of the National Association of Multicultural Rehabilitation Concerns, serving as president from 2009 to 2011.  She served as coordinator of SIU's rehabilitation services program from 2012 to 2013.  Her work also includes serving as board president of the Southern Illinois Center for Independent Living and as a member of the Carbondale branch of the NAACP education committee.
---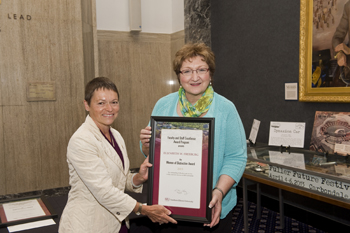 2013 Faculty Award: Elizabeth W. Freeburg, professor and chair in the Department of Workforce Education and Development in the College of Education and Human Services.
Freeburg is praised by colleagues for mentoring faculty and staff, enhancing graduate students' scholarship and research skills, and leadership that "truly reflects a sustained commitment to women and diversity issues and in service to the University community," writes Marcia Anderson, professor emerita and former graduate program director.
With more than 21 years experience in the department, Freeburg became department chair in June 2009; prior to that she was graduate program director.  She began as a graduate research assistant in January 1992, and was adjunct faculty from 1992 to 1999 before becoming a visiting assistant professor and site program coordinator for the off-campus degree program at Scott Air Force Base. 
---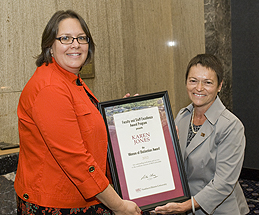 2012 Faculty Award: Karen L. Jones
---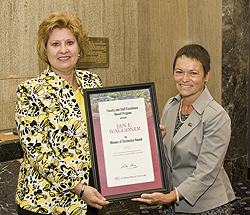 2012 Faculty Award: Jan E. Waggoner
---
2012 Adminstrative/Professional Award: Patricia Caporale
---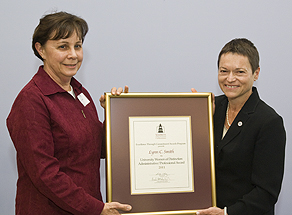 2011 Adminstrative/Professional Award: Lynn Smith
---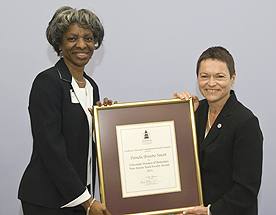 2011 Adminstrative/Professional Award: Pamela S. Smoot
---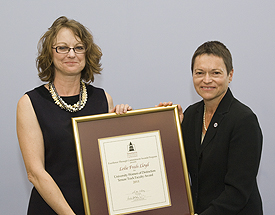 2011 Adminstrative/Professional Award: Leslie Freels Lloyd
---
2010 Faculty Award: Kathryn A. Hytten
---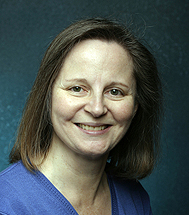 2010 Adminstrative/Professional Award: Linda A. Toth
All information was current at the time of the award.