Early Career Faculty Excellence
Main Content

Early Career Faculty Excellence
To recognize a faculty member who is within his/her first five (5) years of employment at the University and who excels at research, teaching, and other professional activities.
Early Career Faculty Excellence Nomination and Guidelines information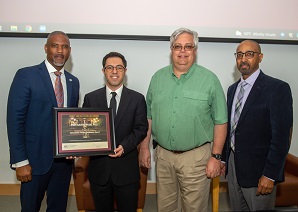 2022: Amir Sadeghpour, College of Agricultural, Life, and Physical Sciences
---
2021: Gayan Aruma Baduge, College of Engineering
---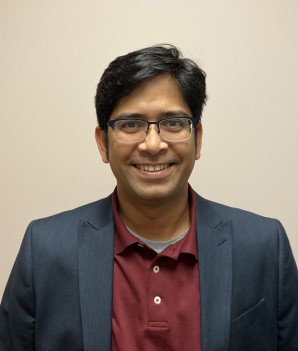 2020: Pravas Deria, College of Science 
---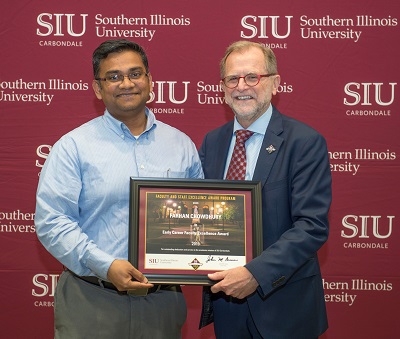 2019: Farhan Chowdhury, College of Engineering
---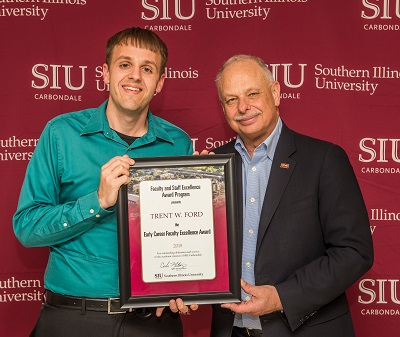 2018: Trent W. Ford, College of Liberal Arts
---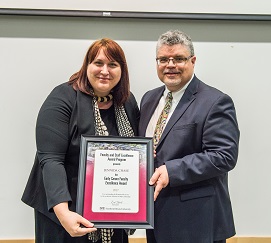 2017: Jennida Chase, College of Mass Communication and Media Arts
---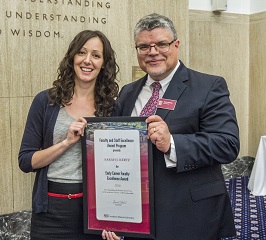 2016: Sarah J. Kertz, Department of Psychology
---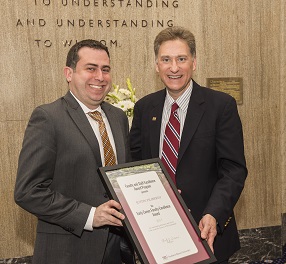 2015: Justin Filiberto, College of Science
---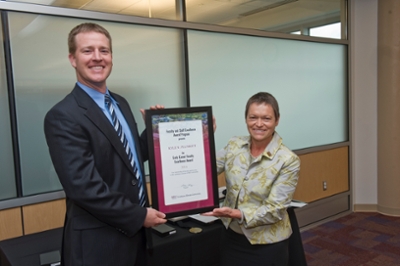 2014: Kyle N. Plunkett, an assistant professor in the Department of Chemistry and Biochemistry, earns praise from his colleagues for his outstanding research and exceptional teaching, in addition to a sincere interest in student success.  Plunkett came to SIU Carbondale in 2010.  Plunkett teaches undergraduate and graduate courses in organic chemistry. Organic chemistry at the undergraduate level provides students the basis for how atoms bond together to form organic, carbon-containing, compounds and how they can be manipulated to make new chemical species. Organic chemistry drives innovation in fields including energy, space, medicine and engineering.
Boyd M. Goodson, associate professor of chemistry and biochemistry, praises Plunkett's "innovation and excellence" both in and out of the classroom.  That includes meeting with students once per week at Neely and Felts residence halls, initiating a second-year chemistry "Honors" section that meets outside of class once a week and engaging students in cutting-edge research.
In March 2014, Plunkett received a $650,000 five-year research grant from the National Science Foundation.  The grant will support Plunkett and a team of graduate students in their efforts to develop new organic-based materials utilized to make organic solar cells that can convert sunlight into electricity, which could also lead to new solar cell efficiencies.  Goodson writes that the competitive award requires "is a substantial recognition of a young scholar."
During his time at SIU, Plunkett has generated 11 peer-reviewed publications, several with graduate students and two with undergraduate co-authors.  He currently also has three master's-level and three doctoral-level students working in his lab, and has mentored 11 undergraduate researchers, including two research rookies.
---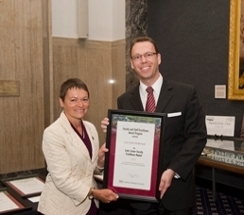 2013: Lucian E. Dervan, an assistant professor in the SIU School of Law, earns praise from colleagues for his scholarly and teaching excellence since coming to SIU Carbondale in 2009.  Dervan teaches courses on topics including international criminal law, global legalization and comparative law, sentencing law and white collar crime.
Mark F. Schultz, associate professor and the law school's director of faculty development, praises Dervan's work -- in terms of publishing more than one dozen papers in just over three years at SIU Carbondale; involving students in his research and service projects, and involvement in creating a "Global Legalization" class.  The class, which Schultz writes is unique in legal education, allows students to learn about a selected foreign country's culture, history and legal system, and students then visit the country for about a week.  Dervan also organizes and runs a scholarly workshop for pre-tenure faculty and his scholarly work on plea bargaining, which includes testifying before the U.S. House of Representatives' Judiciary Crime subcommittee, carries "real-world impact," Schultz writes.
Dervan earned the law school's Outstanding Scholar of the Year Award in 2012.
"He is a rare talent with a tremendous work ethic," Schultz writes.  "He has already accumulated a record that would be the envy of most senior scholars."
---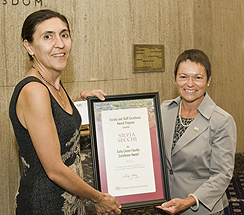 2012: Silvia Secchi, an assistant professor in agribusiness economics in the College of Agricultural Sciences, earns praise from colleagues for a "strong record of excellence" in teaching, research and service since coming to SIU Carbondale in 2008. She has secured as principal investigator or co-principal investigator seven externally funded projects totaling more than $5 million.
---
All information current at the time of the award.