University Level Staff Excellence Awards
Breadcrumb Navigation
>

University Level Staff Excellence Awards
Main Content
University Level Staff Excellence Award
To recognize an Administrative/Professional and/or Civil Service Staff employee who has demonstrated excellence in their performance at Southern Illinois University Carbondale.
University Level Staff Excellence Award Nominations Guidelines and Deadline information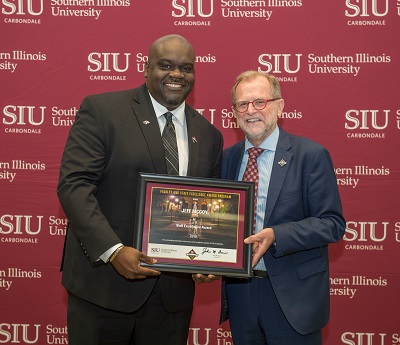 2019 University Level Administrative Professional Staff Excellence Award: Jeff McGoy, Dean of Students
---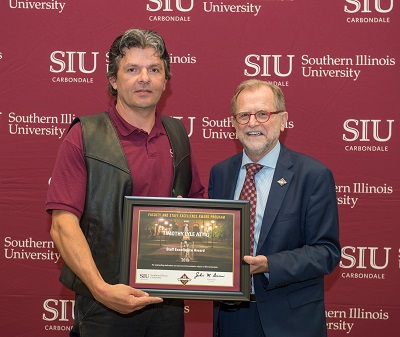 2019 University Level Civil Service Staff Excellence Award: Timothy Lyle Attig, College of Engineering
---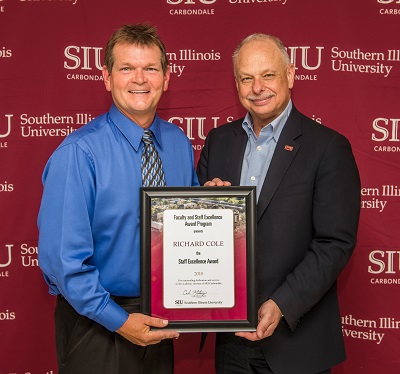 2018 University Level Civil Service Staff Excellence Award: Richard Cole, Department of Plant Biology
---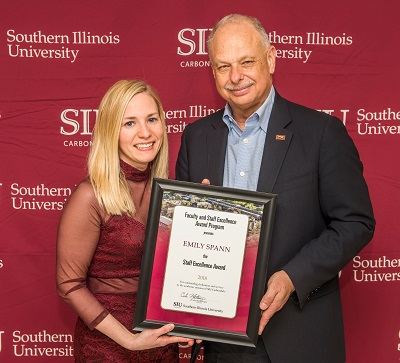 2018 University Level Administrative Professional Staff Excellence Award: Emily Spann, Student Center
---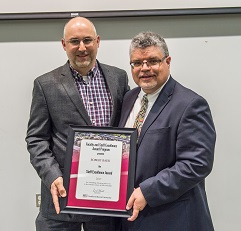 2017 University Level Administrative Professional Staff Excellence Award: Bob Baer, Department of Physics
---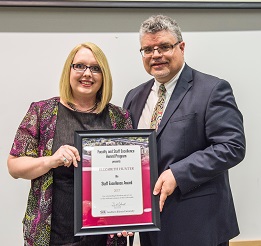 2017 University Level Civil Service Staff Excellence Award: Elizabeth Hunter, University Communications
---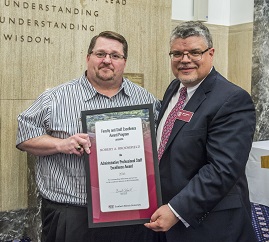 2016 University Level Administrative Professional Staff Excellence Award: Robert A. Broomfield, College of Applied Sciences and Art
---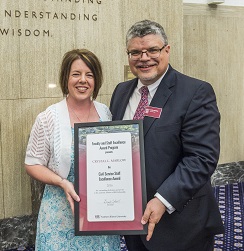 2016 University Level Civil Service Staff Excellence Award: Crystal L. Marlow, Graduate School
---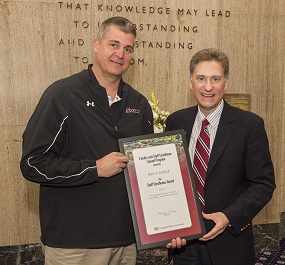 2015 University Level Administrative Professional Staff Excellence Award: Jeff Goelz, Recreational Sports and Services
---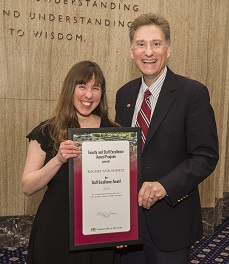 2015 University Level Civil Service Staff Excellence Award: Rachel Shurtz, Department of Zoology
---
Past Administrative Professional Staff Excellence Awards

All information was current at the time of the award.

Past Civil Service Staff Excellence Awards

2014: Ronald A. Dunkel, is coordinator of the Student Center Craft Shop and is often found, according to Tena Bennett, Student Center director, "in the middle of all the classes, workshops and fun that goes on at the Craft Shop every day."

Dunkel has been craft shop coordinator since September 1994; he began at the university in 1985 as the assistant craft shop coordinator, wood shop manager and instructor. Through more than 50 annual workshops and private lessons, Dunkel and his team "have created an opportunity for everyone to find their inner artist," Bennett writes. 

Dunkel is heavily involved in everything from a hand-carved casting of an SIU Saluki gnome to teaching a class on how to make sushi, build a kayak or help students fix their bikes through "Saluki Spokes." He also works with various community groups including the Girl Scouts, Rainbow's End, Carbondale Boys and Girls Club and numerous campus-related organizations, Bennett writes.

Don Castle, Student Center associate director, writes that Dunkel is focused on students' learning, success and wellbeing and "continues to motivate and educate students about the benefits of being productive and becoming involved in their chosen profession."

Kay Pick Zivkovich, professor and associate director in the School of Art and Design, writes that Dunkel inspires people on a daily basis to "become more aware of themselves through the creative process."

2013:  Philip Reed , or "Chef Phil," the chef production manager for residence hall dining with University Housing, makes the "culinary experience of SIU students a truly great experience."  But that is just one of his attributes, writes Darrell Porter, a housing maintenance inspector.

Working for University Housing since 1992, Reed works at Trueblood Hall, the largest dining hall on campus. He is responsible for approximately 6,000 meals per week to an average of 900 students each night, and oversees more than 30 kitchen staff, and more than 100 students. Known for his monthly dining hall theme meals, Reed earned a national award in 2010 from the National Association of College and University Food Services for his theme meal, "A Night in New Orleans."

Debra J. Nesbitt, a food production manager, also writes that Reed, through research and trial, "came up with menu adaptations that allowed a variety of choices for students who thought Celiac Disease would limit forever."

"His due diligence in formulating recipes, preparation methods, staging areas, and staff training has made a significant impact on our ability to recruit students with allergy and intolerant conditions," she writes.  She also notes Reed was instrumental in determining menus and food production in the aftermath of the May 8, 2009, wind storm that occurred in the midst of spring semester finals and anticipated commencement ceremonies.  She writes that the staff served lunch to 3,500 patrons daily May 8-12, 2009.

Reed also provides hands-on training for students in the University's Food and Nutrition program; is involved with the University's Iron Chef competitions, and numerous community outreach programs.  That includes raising donations for a homeless shelter in the St. Louis area; donations for special education students in Cairo, and volunteering with Habitat for Humanity.

2010-2012: Patricia Caporale, administrative assistant to the admissions director at the SIU School of Law, has been the "backbone of the law school's recruitment and retention mission" since her start there in 1988, writes Alice M. Noble-Allgire, law school professor.

2010-2011:  Jean Elder, who is the office manager for the Department of Radio-Television, is the administrative assistant to the department chair. Her responsibilities include keeping track of the department's business and financial accountings, but colleagues say Elder plays even a more pivotal role within the department and the College of Mass Communication and Media Arts.

2009-2010:  Clarence E. "Clancy" White is an arena technician at the SIUC Student Center. He joined the University in 1998 and is responsible for sound at the many events held at the facility, as well as events held outside and off-campus. White, of Du Quoin, also repairs and maintains sound and video equipment and is a back-up technician for other major campus facilities, such as Saluki Stadium, Shryock Auditorium and the SIU Arena.

2008-2009 : James E. Hancock came to SIUC in September 1997 and is a university safety officer with the Center for Environmental Health and Safety. His duties include ensuring the University is in compliance with state and federal regulations pertaining to a safe and healthy work environment for employees, students and visitors. That includes conducting campus health and safety inspections, investigating incidents and injuries, developing health and safety programs, and conducting health and safety training and advising departments on health and safety issues. Prior to working at SIUC, Hancock held various positions in the coal mining industry with AMAX Coal Co.'s Delta Mine in Marion. He earned his bachelor's degree from SIUC in university studies, with a concentration on environmental studies and occupational health and safety. His master's degree from SIUC is in education with a concentration on occupational health and safety training.

2007-2008 : Karen Gibson came to SIUC in 1976 as a central sterile supply technician and then moved on to work in General Stores and Physical Plant Services. In 2000, she became the storekeeper in the Department of Zoology, where she has garnered praise from co-workers, faculty and students.

2006-2007 : Michael A. Shelton (right), network engineer V, Information Technology.

2005-2006 : Rhonda Hooper, administrative assistant I, Institutional Research and Studies.

2004-2005 : Ruth Pommier, clerk, University Housing.

2002 : Carole Young, program administrative assistant, Rehabilitation Institute.

2001 : Bradley "Jay" Brooks, superintendent, Building Services.

2000: Jamie Corr, assistant program director, Office of Family Housing.

1998:  Carolin Harvey, accountant II, Division of Continuing Education.

1994:  Pansy Jones, administrative assistant to the dean, College of Liberal Arts.

1993 : Bonnie Long, program administrative assistant, Department of Curriculum and Instruction.

1990:  Henrietta Miller, administrative assistant, Library Affairs.

1989 : Gladys Gassaway, payroll clerk IV and student payroll supervisor, Payroll Office.

1988 : Nancy Hartman, procedures and systems planner, Service Enterprises

1988 : James Gulledge, supervisor of residential and custodial operations, University Housing

1987: Louise Golliher, chief clerk, Graduate School

1987: Carl Kirk, captain, Security Office.

1986: Patrick Harris, auditor, Internal Auditor's Office.

1985: George O'Hara, superintendent of building services, Physical Plant

1985 : Bonnie Williams, staff transcribing secretary, Personnel Services

1985: Jeanne Eaton, computer programmer, General Accounting

1985: Harrel Lerch, superintendent of building maintenance, Physical Plant.

1984 : Jacqueline Goepfert, staff secretary, Center for the Study of Crime, Delinquency and Corrections

1984 : Max Waldron, routing supervisor, Physical Plant

1983 : Geraldine Kelley, community affairs specialist, University Museum

1983: Marion Davis, administrative clerk, affirmative action office

1983: Phyllis McGowen, staff secretary, health education

1983: Richard Musgraves, supervisor, Central Research Shop

1983: David Saunders, public information officer, School of Technical Careers

1982 : Henrietta Miller, administrative secretary, Morris Library

1982: Joann Marks, stenographic secretary, College of Liberal Arts

1981: Marilyn Branch, administrative assistant, Learning Resources

1981 : Joseph Elliott, General Accounting Office

1981 : Muriel Narve, medical technologist, Student Health Service

1981: Barbara Peterson, secretary to the dean, College of Education

1981: Geraldine White, financial aid adviser, Office of Student Work and Financial Assistance

1980 : Lavida Cruse, assistant director of records, Office of Admissions and Records

1980 : Fidella Doolin, assistant chief accountant, General Accounting Office

1980 : Lee Hester, natural science laboratory assistant, botany department

1980: Robert James, grounds gardener, botany greenhouse

1980 : Ervin Coppi, information supervisor, Broadcasting Service

All information was current at the time of the award.