Tenured and Tenure-Track Teaching Excellence
Main Content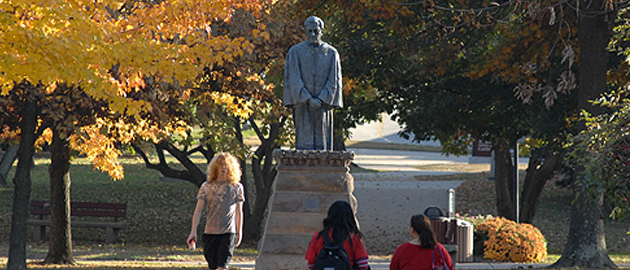 Tenured and Tenure-Track Teaching Excellence
To recognize a tenured faculty member who has demonstrated exceptional skill in teaching.
Tenured and Tenure-Track Teaching Excellence Nomination Guidelines and Deadline information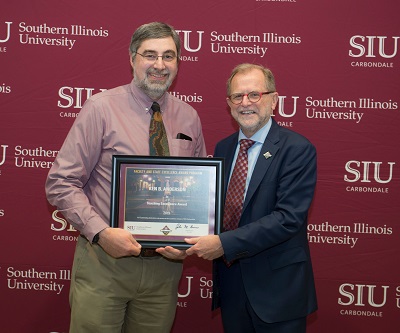 2019: Ken B. Anderson, College of Science
---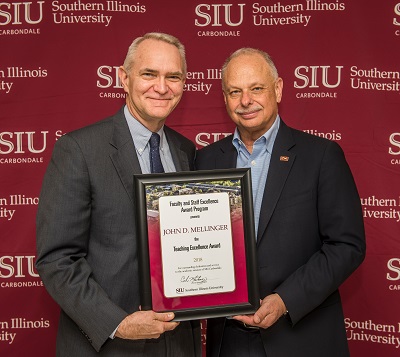 2018: John D. Mellinger, School of Medicine
---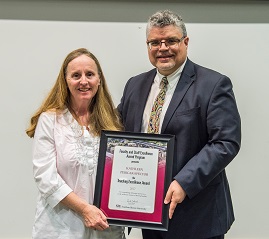 2017: Kathleen Pericak-Spector, College of Science
---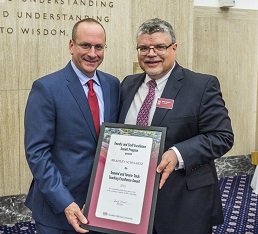 2016: Bradley Schwartz, School of Medicine
---
2015: Gary Apgar, College of Agricultural Sciences
---
 2014: Roudy W. Hildreth, an associate professor in the Department of Political Science utilizes innovative and highly effective teaching methods that are reflected by the success of his students and the high demand for his courses, writes Scott A. Comparato, associate professor and interim department chair.
"He is able to develop an effective rapport with students while still maintaining a certain professional distance, and it is evident he holds the students' respect in that role," Comparato writes.  "He effectively conveys complex concepts and theories to students in a way that they can comprehend without being pedantic or condescending.  He fosters an environment in which students feel comfortable participating, and pushes them to take responsibility for their own education."
Hildreth teaches courses in political theory at the undergraduate and graduate level and a graduate-level course on qualitative methodology.  He has also taught a wide-range of classes including introductory-level courses on American politics and political theory and upper-level classes on classical political theory, democratic theory and American political thought.  His research interests include democratic theory, the political philosophy of John Dewey and youth-civic engagement.
Hildreth views teaching as a "collaborative process of engaging content and building knowledge with students."  Hildreth writes that he aims to give students "a sense of lived reality of the material they are studying," with service-learning a central strategy.  In making his courses academically rigorous, Hildreth writes he has high standards for class discussions, knowledge of content and written work.  He also has assignments in each class "that challenge students to think for themselves and take an independent stand on the material in question."
---
2013: Anne Fletcher, a professor in the Department of Theater, has a gift "to blend theory with practice and classroom with stage that has made her so indispensable to our students' education …" writes Ronald Naversen, professor of scenic design and graduate studies director in the Department of Theater, who nominated Fletcher for the award.
Fletcher teaches undergraduate and graduate courses in theater history, American theater history, contemporary developments, theory and criticism, and dramaturgy.  She also supervises and mentors graduate teaching assistants, serves as a chair or member on thesis and dissertation committees, and arranged more than 20 panels and presentations at regional and national conferences on theater teaching methods and practice.
Naversen writes that Fletcher assists each graduate teaching assistant before they step into a classroom with active learning exercises that students apply to various course subjects. Fletcher also implemented a dramaturgy program at SIU Carbondale and provides a "nurturing atmosphere for the undergraduates while still making the course challenging for graduate students."  Fletcher has also earned national prominence for "pioneering work" in theater teaching methods and practice.  Community groups also seek Fletcher's teaching expertise.
Fletcher is author or co-author of two books and five textbooks.  She is co-authoring a textbook that will highlight her experiences in "teaching to the season" practices at SIU Carbondale,
---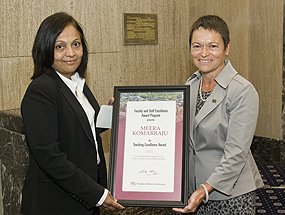 2012: Meera Komarraju, an associate professor and director of the undergraduate program in the psychology department in the College of Liberal Arts, is a "stellar teacher who is dedicated to her students' success," writes Benjamin Rodriguez, associate professor and department chair.
---
2011:  Dr. Gary Dunnington, professor and department chair of surgery at Southern Illinois University School of Medicine is honored for his outstanding contributions to training new surgeons in the art of surgery and medicine. The award is part of SIUC's annual Excellence Through Commitment program, which highlights top achievers at the University.
---
2010: Wallace "Dave" N. Davidson III is the Henry Rehn Research Professor of Finance in the College of Business. He joined the faculty in 1989 is ranked as one of most prolific research article authors in finance and management. Known for his mentoring efforts, Davidson also received the 2010 University level Outstanding Teaching Award. Davidson earned his doctorate in 1982 at The Ohio State University. He holds an MBA and bachelor's degree, completed in 1976 and 1974, respectively, from Wright State University in Ohio.
---
All information current at the time of the award.
---
Outstanding Teaching 2000 - 2009
Outstanding Teaching 1990-1999
Outstanding Teaching 1980-1989
Outstanding Teaching 1970-1979
Outstanding Teaching 1969