Outstanding Scholar Award 1985 - present
Main Content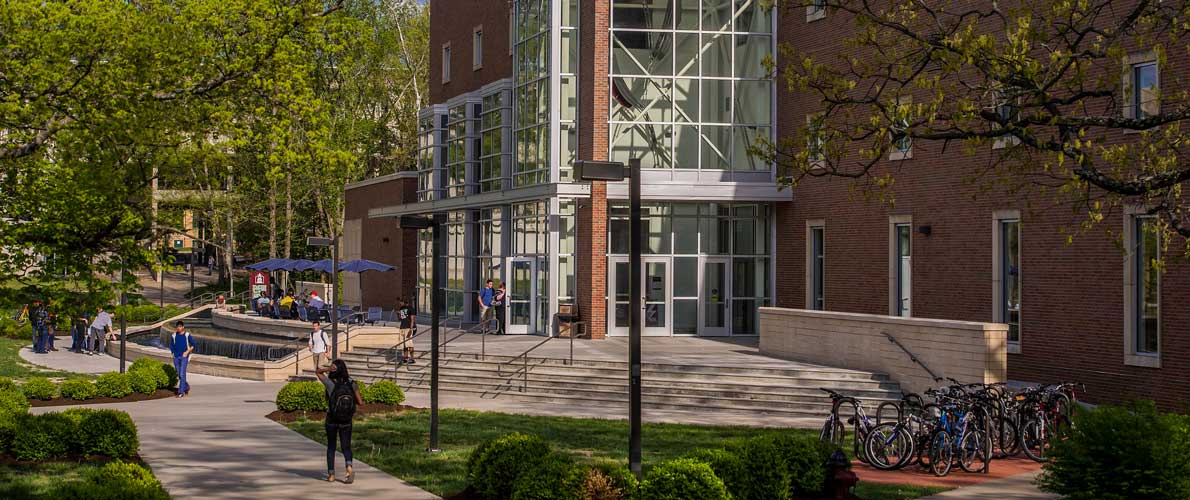 2014: Kathleen C.M. Campbell, professor and director of audiology research in the Division of Otolaryngology, Department of Surgery at the SIU School of Medicine, is "undoubtedly one of the most meticulous, dedicated and prolific scholars in her field," writes Dr. Michael W. Neumeister, professor and chair of the surgery department.
Campbell, who earned the SIU's 2012 Inventor of the Year Award, is the first person in SIU history to move a drug she has patented at SIU into FDA-approved Phase 3 clinical trials, Neumeister writes.
She is principal investigator for a five-year project involving the final stages of research for an SIU School of Medicine patented drug aimed at preventing noise-induced hearing loss.  In September 2013, the medical school announced a $2.5 million grant from the U.S. Department of Defense will support a Phase 3 clinical trial to determine if D-methionine can prevent noise-induced hearing loss in soldiers.  Campbell is the inventor of the D-met drug.
"Her work will have a significant impact on the quality of life for many patients around the world who have been exposed to high noise levels, such as troops in the military, and may improve the quality of life for patients receiving chemotherapy or radiation therapy for cancer or receiving intravenous antibiotics for moderate to severe infections," Neumeister writes.
Martin D. Slade and Carrie A. Redlich of the Yale School of Medicine write that Campbell, an internationally renowned scholar, "has been, and continues to be, a pioneer in the quest to prevent hearing loss, a condition that affects almost 30 million Americans alone."
Campbell joined the School of Medicine faculty in 1989. She has served as principal investigator for more than 60 state and federal research grants focused primarily on ototoxicity and otoprotective agents. She is the author of "Essential Audiology for Physicians" and the author-editor of "Pharmacology and Ototoxicity for Audiologists," a required text in most audiology doctoral programs.
---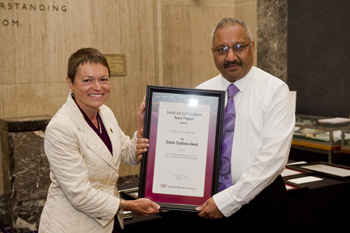 2013: Om Prakash Agrawal, a professor in the mechanical engineering and energy processes department in the College of Engineering, is an "internationally recognized eminent scholar" in the areas of flexible multibody dynamics, and fractional derivatives and their application to dynamic systems, writes Kambiz Farhang, a professor in the Department of Mechanical Energy and Energy Processes.  Farhang describes Agrawal's development in automated formulations as "a pioneering work with transformative impact in many engineering disciplines," including computer-aided design of mechanical systems, aerospace, robotics and mechanisms.  And his research over the last 12 years in the area of fractional derivatives "has been monumental and will continue to be cited for years and perhaps centuries," Farhang writes. He notes that almost all books published recently involving fractional calculus cited Agrawal's work.
Agrawal joined SIU Carbondale in 1985, and among his many honors is the College-Level Outstanding Scholar in 2007.  His scholarly work includes more than 70 archival journal papers, along with numerous conference proceeding papers and book chapters.  He has also been involved with more than $1.4 million in funded research projects. Frequently invited to deliver keynote speeches, Agrawal was the guest of honor at the National Workshop on Applications of Fractional Calculus in Engineering at the Indian Institute of Technology in March 2012.
---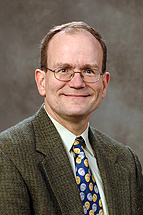 2012:Theodore R. Weeks, a professor in the history department in the College of Liberal Arts, is a "remarkably productive scholar whose work has international implications as well as international impact," writes former Dean Alan Vaux and David DiLalla, an associate professor in clinical psychology and associate dean. Weeks' research interests include anti-Semitism, ethic relations and assimilation, and national movements in East Central Europe and Russia. Among his many honors is a Fulbright Distinguished Chair at the University of Warsaw in Poland from September 2008 to July 2009, and the 2009 Outstanding Scholar award from the College of Liberal Arts.
---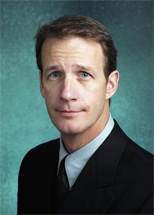 2011: Dr. Michael W. Neumeister, professor and division chair of plastic surgery at SIU School of Medicine, for his outstanding contributions to his field. Neumeister is director of both the Regional Burn Unit and Wound Care Center at Memorial Medical Center, Springfield. He serves as medical director at Baylis-Outpatient Surgery Center there, as well. He also is vice chair of plastic surgery at St. John's Hospital, Springfield.
---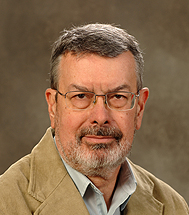 2010: Dale H. Vitt is a professor of plant biology in the College of Science. He joined the faculty in 2000 and was named the College of Science?s Outstanding Scholar in 2008. He has brought more than $5 million in outside research money to SIUC during his tenure. A Missouri native, Vitt earned his Bachelor of Science degree in botany in 1967 at Southeast Missouri State University. He earned his Master of Science degree in 1968 at the University of Michigan and his doctorate in 1970 there, as well.
---
2009: Carl Faingold, a professor of pharmacology and neurology in the School of Medicine, has been a faculty member in the school for the better part of the last four decades and chair of the Department of Pharmacology since 1995.  He earned a bachelor's degree in pharmacy in 1965 at the University of Illinois Chicago and his doctorate in pharmacology in 1970 at Northwestern University.  A leading researcher, his work was cited more than 100 times a year by other researchers during the last five years.
---
2008: David J. Gibson, professor in the Department of Plant Biology in the College of Science, joined the faculty as an assistant professor in 1992 and became a full professor in 2000.  The College of Science named Gibson its Outstanding Researcher in 2006.  He earned his doctorate in 1985 at the University of Wales, Bangor, United Kingdom, his master's degree in botany in 1981 at the University of Oklahoma and his bachelor's degree in 1979 at the University of Reading, United Kingdom.
---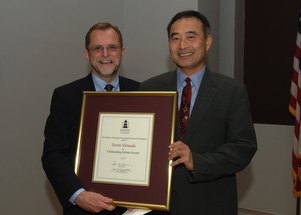 2007:  Izumi Shimada (right), professor of archaeology.  Shimada, widely regarded here and abroad as one of the leading Central Andean scholars, has spent nearly three decades in Peru unearthing clues to the lives and times of the Moche and Sican peoples, ancient inhabitants of the country's northern coast.  Shimada joined SIUC as an assistant professor in 1994, became an associate professor in 1996 and was promoted to full professor in 2002.  He earned his bachelor's in 1971 from Cornell University and his doctorate in 1976 from the University of Arizona.
---
2006:  Salah E. A. Mohammed, professor of mathematics.  Mohammed specializes in stochastic analysis, a mathematical study of the dynamics of random variables that focuses on random changes taking place over time.  Beyond the field of mathematics, his work is valued by people working in such fields as meteorology, engineering, ecology, oceanography and finance, among others. He earned his bachelor's degree in 1970 from the University of Khartoum in Sudan, his master's in 1972 from the University of Dundee in Scotland and his doctorate in 1976 from the University of Warwick in England.
---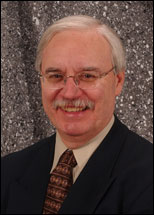 2005:  Otolaryngologist Leonard P. Rybak, a surgeon who joined the School of Medicine faculty in Springfield in 1981, has spent much of his career studying inner ear injuries and hearing loss.  In particular, Rybak has focused on understanding why many drugs commonly used to treat other ailments can wind up damaging the inner ear and causing hearing loss.  A native of East St. Louis, Rybak earned his bachelor's degree from the St. Louis College of Pharmacy in 1969 and his medical degree from the Medical College of Wisconsin in Milwaukee in 1973.  He interned at the Hennepin County Medical Center in Minneapolis and completed a residency in otolaryngology at the University of Minnesota affiliated hospitals in 1979.  He also earned a doctoral degree in otolaryngology from the University of Minnesota in 1979.  He has been a full professor of surgery at the medical school since 1989.
---
2004:  Charles F. Fanning, who joined SIUC's English department faculty in 1993, began his scholarly career in 1970 focusing on Irish-American literature, but he soon branched out to include history, culture and immigration.  Fanning has published 12 books, 16 articles in professional journals, 12 book chapters, nine book reviews and two encyclopedia entries.  Fanning has also received 11 fellowships and research awards in 10 years, including a three-year, $240,000 federal grant to underwrite the development of an exchange program with University College in Galway, Ireland.  Fanning grew up in Norwood, Mass., an area settled by Irish immigrants from Galway, earned a bachelor's degree from Harvard College in 1964, a master's from Harvard University in 1966, and master's and doctoral degrees from the University of Pennsylvania in 1968 and 1972.  He taught at Bridgewater State College in Massachusetts for 21 years and spent two years as assistant to the chancellor of the University of Missouri St. Louis before coming to SIUC.
---
2003:  Donald M. Caspary, faculty member and assistant dean at the School of Medicine in Springfield, specializes in brain processes related to hearing.  His current research focuses on how the aging brain changes its ability to process auditory signals, hoping that his knowledge might lead to the development of drugs that could treat age-related hearing loss.  He earned his bachelor's degree from the University of Wisconsin in 1965 and his doctorate from New York University in 1971.  He joined the SIUC medical school faculty in 1973 after completing postdoctoral work at the State University of New York-Albany.  He received promotion to associate professor in 1976 and to full professor in 1989.
---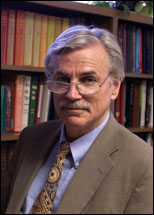 2002:  Larry A. Hickman, head of the University's Center for Dewey Studies, came to SIUC in 1993.  He is an authority on the philosophy of John Dewey.  He has written two books, including "John Dewey's Pragmatic Technology."  He has won many awards, including the Choice award for outstanding academic work in 1990.  He has published more than 60 articles in his field's leading journals.  He currently acts as president-elect of the Society for the Advancement of American Philosophy.  Hailing from McAllen, Texas, he earned a bachelor's degree in 1964 from Hardin-Simmons University and his doctorate from The University of Texas at Austin in 1971.
---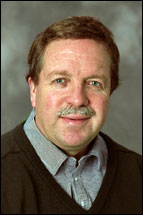 2001:  Microbiologist Michael T. Madigan specializes in anoxygenic phototropic bacteria.  These are tiny organisms living in airless environments that make energy from sunlight.  His area of specialized interest is with those bacteria that thrive in extremely hot, cold, salty or alkaline environments.  His research has won him roughly $1.3 million in research grants from such federal agencies as the National Science Foundation and the departments of Energy and Agriculture.  He has published seven books, 91 papers in peer-reviewed journals and 54 abstracts.   A native of Wisconsin, he earned his bachelor's degree from the University of Wisconsin at Stevens Point in 1971 and his master's and doctoral degrees from the University of Wisconsin-Madison in 1974 and 1976, respectively.  Madigan came to SIUC as an assistant professor in 1979 after completing a three-year post-doctoral fellowship at Indiana University.  He was promoted to associate professor in 1985 and to full professor in 1991.
---
2000:  Mathematician Scott J. Spector is an internationally renowned researcher in continuum mechanics.  He specializes in the analysis of equations relating to elasticity, a theory used to explain what happens when certain kinds of polymers and crystals are subjected to stress.  His particular area of interest is in nonlinear elasticity, which aids in the study of instability.  Engineers draw on such findings in designing and manufacturing new materials.  His work regularly appears in his field's top journals.  He also serves on the editorial board of the Journal of Elasticity, one of the field's leading publications.  Spector came to SIUC in 1981 from the University of Tennessee, achieving full academic rank in 1990.  He is a three-degree graduate of Carnegie-Mellon University, earning his bachelor's in 1974, his master's in 1975 and his doctorate in 1978.
---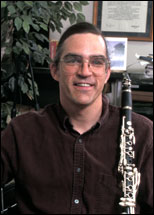 1999:  Eric P. Mandat, a clarinetist-composer music professor, is recognized as a "new music," or avant-garde, composer.  He experiments with producing sounds, pitches and tones not usually associated with the clarinet.  Among professionals in the field of music and composing, Mandat is regarded as the only clarinetist in the world to produce this unique sound.  He has composed more than 20 works, both ensemble and solo pieces.  Excerpts from several of these pieces and his quartertone fingering chart appear in the 1994 edition of the Phillip Rehfeldt's highly regarded book, "New Directions for Clarinet."  Mandat joined SIUC in 1981.  He earned his bachelor's degree from North Texas State University in 1979, his master's from Yale University in 1981 and his doctorate from the Eastman School of Music in Rochester, N.Y., in 1986.
---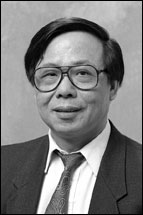 1998:  Internationally known scientist, Rongjia Tao, (Pronounced: WRONG-jah DOW) is a physicist.  He specializes in smart fluids, composite materials and nonlinear optics.  Fellow physicists consider him a pioneer in rheology — the study of the flow and alternation of matter.  His findings play a crucial role in laser technology and the semiconductor industry.  Tao's work has brought more than $1 million in research grants to SIUC.  He has edited two books and published more than 70 articles in well-respected scientific journals.  He came to SIUC from Boston's Northeastern University in 1989 as an assistant professor, achieving promotion to full professor less than four years later.  He also headed SIUC's physics department.  Tao was born in China, where he earned a bachelor's degree in 1970.  He is a three-degree graduate of Columbia University in New York, earning master's degrees there in 1980 and 1982 and a doctorate in 1982.
---
1997:  Prudence M. Rice, an internationally known expert on prehistoric pottery and Maya civilization, was the first woman to receive the University's top academic prize.  Because all cultures have used clay-based dishes and containers, pottery is a key tool in the study of vanished cultures.  Reporting on discoveries unearthed during more than two decades of fieldwork in Latin America, Rice has written prodigiously, not just on ceramic technology but also on the effect pots, production and people have on each other.  Her 559-page volume, "Pottery Analysis, A Sourcebook," published in 1987 when she was only 40, was cited by many of those reviewing her nomination for the scholarship award as a bible for the field.  Rice's research has won major funding from the National Science Foundation, the National Endowment for the Humanities and the National Geographic Society, and her resulting articles have been published by virtually all of the field's major journals.  Rice came to the Carbondale campus in 1991 and became chair of SIUC's anthropology department in 1993.  She earned her bachelor's and master's degrees from Wake Forest University in 1969 and 1971 and a doctorate from Pennsylvania State University in 1976.  She is associate vice chancellor for research.
---
1996:  Physicist F. Barry Malik has dual appointments in the departments of physics and electrical engineering.  He began his career in 1959 as a research associate at the Max Plank Institute for Physik in Munich, Germany, where he focused on theoretical atomic, nuclear and solid-state physics.  He has received grants from the National Science Foundation, Oak Ridge National Laboratory and the U.S. Army Research Office.  The National Aeronautics and Space Administration funded his more recent research into how air molecules react to objects traveling at more than five times the speed of sound.  Malik has been published roughly 100 times and has contributed to eight separate areas of discipline.  He has addressed some 40 national and international conferences and has served as a visiting scholar around the world.  Malik came to SIUC in 1980 to serve as the chairman for the physics department while on leave from Indiana University.  He never went back and continued to head the department until 1985 when he stepped down to focus on research, writing and lecture activities.  Born in Bankura, India, Malik earned his bachelor's degree from India's Calcutta University in 1953.  He received a master's from Dhaka University in Bangladesh in 1955 and went on to complete a doctorate at Gottingen University in Germany in 1958.
---
1995:  Richard L. Lanigan Jr., a communication theorist is a professor of speech and specializes in the philosophy of communication and semiotics, the study and analysis of communicative elements such as gesture or clothing.  He has written six books, 17 book chapters and 21 journals articles over the course of his career.  His first book, "Speaking and Semiology," published in 1972 is still regarded today as a comprehensive and systematic explication of Maurice Merleau-Ponty's theory of existential communication.  Lanigan earned his doctorate at SIUC in 1969 and returned to his alma mater as a faculty member in 1974, becoming full professor in 1980.  A native of Santa Fe, he earned his bachelor's and master's degrees from the University of New Mexico in 1967 and 1968.
---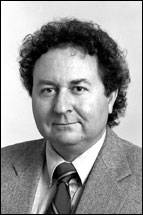 1994:  Robert S. Corruccini, a physical anthropologist, has made a career out of the way people eat.  He studies malocclusion, this is a dentist term for what happens when the upper and lower teeth don't line up right.  In his book, "The Mystery of Malocclusion," he looks at how the lack of rigorous chomping keeps jaws from developing enough to provide the space teeth need — a problem that dates back more than 100 years and crosses cultural lines.  Corruccini also specializes in the relationship between humans and primates, between health and environment, between political change and demographic results.  Since joining the SIUC faculty in 1978, he has earned more than $250,000 in grants.  He has also written two books, 12 chapters, has co-edited seven books and published more than 125 professional journal articles.  Corruccini earned his undergraduate degree in anthropology in 1971 from the University of Colorado and his doctorate in anthropology in 1975 from the University of California at Berkeley.
---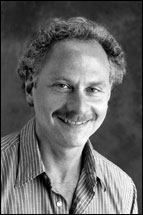 1993:  Steve Scheiner was the University's first physical scientist to win the annual Outstanding Scholar Award.  Scheiner, chairperson of SIUC's Department of Chemistry and Biochemistry, was honored for his outstanding research in the field of molecular science.  Quantum chemistry borrows concepts from physics theory to explain chemical phenomena such as the interaction between molecules.  He has brought in more than $2 million in research grants to SIUC.  Scheiner has authored some 129 articles and papers and he is a frequent speaker at both national and international conferences.  He came to SIUC in 1978 after two years as Weizmann Postdoctoral Fellow at The Ohio State University.  He earned his bachelor's degree in 1972 from the City College of New York and masters and doctoral degrees in 1974 and 1976 from Harvard University.
---
1992:  Philosopher Mark L. Johnson specializes in the role language plays in making sense of the world.  He has written three books, contributed chapters to five more and published 12 articles in professional journals.  Johnson came to SIUC in 1977 after receiving his doctorate from the University of Chicago, where he also earned a master's in 1972.  He earned his undergraduate degree from the University of Kansas in 1971.
---
1991:  Rodney G. Jones won the 1989 National Book Critics Circle Award — a literary prize second only to the Pulitzer — for his third book of poetry, "Transparent Gestures."  His second volume of poetry, "The Unborn," received a Pulitzer Prize nomination in 1985.  Jones, whose poetry is a patchwork of personal experience and imagined possibilities, writes on subjects as diverse as carnival sideshows, academic conferences, calf birthing, the "Challenger" disaster and his grandmother's potato pie.  Jones came to SIUC in 1984.  He earned his bachelor's degree from the University of Alabama.  He also has a master's of fine arts degree from the University of North Carolina at Greensboro.
---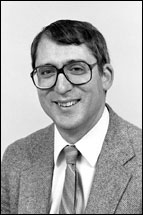 1990:  Dennis L. Molfese, professor of psychology, is a prolific researcher who has published 34 articles, 31 book chapters and one book.  He specializes in electrophysiology and cognitive development.  He has earned over $823,000 in research grants for the university.  In addition to his post in SIUC's psychology department, Molfese teaches in the University's School of Medicine.  He is also a research associate at Yerkes Regional Primate Research Center at Emory University in Atlanta, Ga.  He earned his bachelor's degree from Oklahoma City University in 1969 and a doctorate from the Pennsylvania State University in 1972.
---
1989: George J. Gumerman, a professor of anthropology, is an expert on cultural ecology (the study of societal interaction with the natural environment).  He has achieved an international reputation in the field of conservation or "rescue" archaeology — work done on sites slated for development.  He is best known for his research in the American Southwest directing a multi-million-dollar "rescue" program in Arizona — The Black Mesa project, which began in 1967. He has written and edited 18 books and has contributed 22 chapters.  Gumerman joined SIUC faculty in 1973.  He earned his bachelor's degree from Columbia University and master's and doctoral degrees from the University of Arizona.
---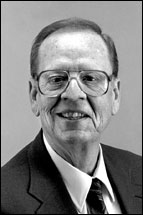 1988:  Botanist Robert H. Mehlenbrock, an authority on endangered species, is a conservationist and scholar who has written nearly three dozen books in his field.  He is author to the book, "The Illustrated Flora of Illinois," a 24-volume endeavor.  He holds bachelor's (1953) and master's (1954) degrees from SIUC.  He earned a doctorate from Washington University in 1957 and joined the SIUC faculty the same year.
---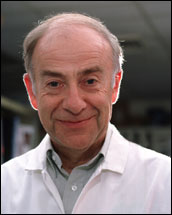 1987:  Andrzej Bartke, professor in the department of physiology, is an internationally renowned scientist who has made pioneering contributions in studies of male reproductive physiology.  His research has included studies of the behavioral and hormonal effects of chronic marijuana use, leading to a better understanding of the effects of cannabinoids — the active components of marijuana — on male reproductive function.  In 1987 alone, Bartke secured $300,000 in grant money.  A native of Krakow, Poland, he is a graduate of Jagiellonian University in Krakow.  He earned a doctoral degree from the University of Kansas in 1965.
---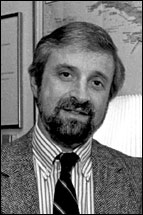 1986:  Jerome S. Handler, a professor of anthropology, specializes in the culture of the Caribbean, particularly Barbados, where he studied historic slave populations for clues to pluralistic societies.  His most recent research deals with the causes of lead poisoning deduced from skeletal remains of 17th and 18th-century Barbados slaves.  Handler joined SIUC as an instructor in 1962 and rose to a full professorship in 12 years.  Since 1965, he has received 24 research grants and awards.  He has written three books, 50 articles and 19 papers.  Handler has a bachelor's and master's degrees in anthropology from the University of California at Los Angeles and a doctorate in anthropology from Brandeis University.
---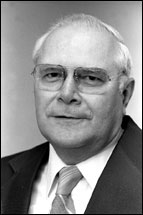 1985:  Dale F. Ritter, a researcher in geomorphology since 1972, specializes in the study of surface processes that go into changing the earth, such as river flow and landslides.  He also looks at the after-math of those processes, such as flood plains, deltas and glacial moraines.  Ritter was the first of SIUC employees to win the Outstanding Scholar Lectureship Award; however, he also won the Outstanding Teacher Award in 1979.  Ritter received a bachelor's degree from Franklin and Marshall and master's and doctoral degrees from Princeton University.  He was National Science Foundation Fellow in 1968-69. 
---
All information was current at the time of the award.
---