Outstanding Administrative/Professional Teaching Support
Main Content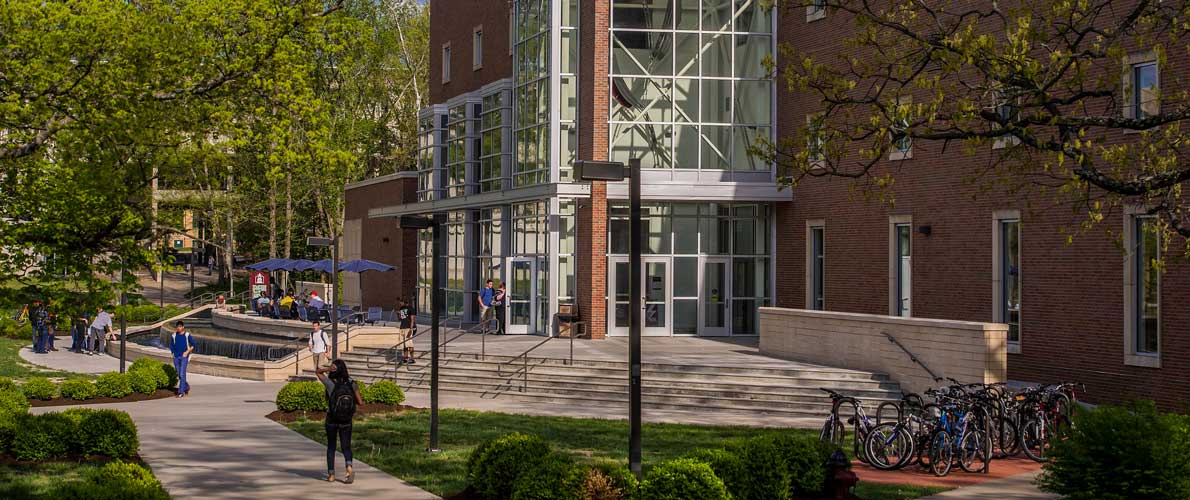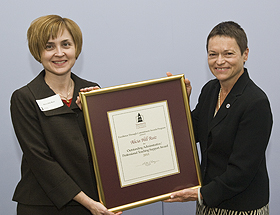 2009: Alicia Ruiz, director of communications and outreach for the SIU School of Law. Ruiz coordinates collection and dissemination of news about the law school through various media, and is responsible for the law school's outreach materials, including the website, bi-weekly internal newsletter, monthly electronic alumni news, and "Annual Report," which highlights activities at the law school during the year. Ruiz also works with faculty to promote their programs to students and external constituencies, and with local bar associations, courts, agencies and the University's Division of Continuing Education to schedule and plan continuing legal education programs for area attorneys.
2009: John Paul "J.P." Dunn, a specialist with Library Affairs, is responsible for the campus Blackboard and WebCT servers and all related training issues. He presents workshops to faculty on the creation of Blackboard and WebCT courses. He works with students on using the Blackboard and WebCT resources and supervises graduate and student assistants as they create resources for multimedia presentations. Dunn earned a Bachelor of Science degree in electronics management in 1987 at SIUC. He earned a Master of Science in curriculum and instruction with a specialization in computer-based education in 1993, also at SIUC.
2008: Susan C. Edgren is acting director of the Division of Continuing Education. She led SIUC's distance learning initiative, which included online semester-based courses with about 135 enrollments in Information Systems and Applied Arts and 109 in Workforce Education and Development. Average enrollment in online courses each semester was 375-400. In the Division of Continuing Education, her experience includes working at the distance learning facility, as instructional developer, program manager, assistant director and as associate director. She earned her bachelor's degree in home economics education, master's in consumer economics and her doctorate in educational administration and higher education, all from SIUC.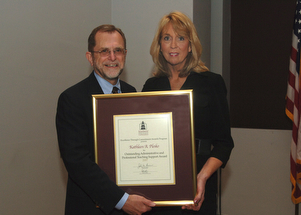 2007: Kathleen Plesko (right), director of Disability Support Services. She became director of Disability Support Services in 1991. She began her career at the University as a rehabilitation counselor in the Evaluation and Development Center in 1984. She coordinates delivery of services to hundreds of permanent and temporary students who identify themselves as needing accommodations ? including sign language or signed English interpreters, tutors, readers, notetakers, adapted materials, advocacy and counseling, pre-admission planning and housing referrals. Plesko earned a bachelor's degree in English literature and education and a master's degree in rehabilitation counseling, both from SIUC.
2006: Clare H. Mitchell, assistant dean of student affairs in the College of Mass Communication and Media Arts. Her association with SIUC began in 1983 when she worked as a graduate assistant in the Student Recreation Center. After finishing her master's degree in 1987, she taught as a lecturer in what was then the Department of Recreation, remaining there until 1998 when she moved to her current position. As assistant dean, Mitchell works with students, faculty and staff. She serves as the college's chief academic adviser, oversees its recruitment and retention efforts and coordinates special events. Her responsibilities include the college's peer adviser and ambassador programs. Mitchell earned her undergraduate degree in 1979 at Michigan State University.
2005: Donna M. Margolis, director of placement, College of Business and Administration. Margolis set up and runs the college's first placement center, which served more than 1,700 students in the last two years. She speaks to classes, coaches students, develops relationships with firms and recruiters, manages the intern and extern programs and oversees a 100-level business class. She also plans, organizes and coordinates Accounting Career Day for the School of Accountancy. She is a two-degree graduate of SIUC, earning both a bachelor's in 1983 and a master's in 1984 from the business college.
2004: Michael S. Harbin, academic adviser for the Crime, Delinquency and Corrections Center. He is the administration of justice academic adviser, recruiting, orienting, advising, scheduling and counseling more than 400 majors. As most majors are transfer students, he works with community college administrators to keep them abreast of changing curriculum requirements, and he regularly visits the colleges to speak directly with students. He also plays a key role in his unit's internship program, as well as handling the bulk of the organization work in putting together the department's annual career and internship fair.
All information was current at the time of the award.